Singapore's not only a melting pot of cultures, but also all­things food. You definitely won't be
able to forget your Chicken Rice and Laksa faves, so I bet you know what I'm talking about!
Since there are literally a gazillion cafes and restaurants available on this sunny island, you
must be wondering which are the best ­ especially for first dates. Well, wonder no further as we have found 3 best cafes that is perfect for 2 in Singapore!
First on the list is none other than Southbridge. Located at the heart of the country, you don't
need to worry about the hassle of inconvenience. Here, be wowed by the Chilli Crab Croque
which, I'm sure by now, will set your appetite ablaze. It's a local dish peppered with an Italian
take, so prep yourself for something exciting! Great to go with a glass of classic Margarita.
Really, what beats having a toast while having the CBD as your backdrop? Southbridge offers
you the place for a perfect date night. Your first date will be impressed with your taste for
locations. Don't forget to thank us!
Plus, going to a place with a great view shows your date you know how to enjoy the pleasures
of life. Besides feelin' all 'em positive vibes from the view, the frequent breeze can really breathe fresh air into your weary body after a day's work. Taking the place of an observer from across the river is also a good break from the norm!
2. The Coastal Settlement
You could say that The Coastal Settlement is a perfect place for those needing some much­ needed detachment from the hustle and bustle of hectic Singapore. Besides being surrounded by lush greenery and a bohemian interior, The Coastal Settlement gives the vibe of pure chill. Perfect location for a romantic yet casual setting in the East.
If you're worried that the food won't match up to the interior of the cafe, then your worry is in vain. Why? Just look at the oh­so­juicy entire half chicken and it'll already whisper a thousand (yummy) words to your palate.
In all, the long journey to The Coastal Settlement builds up expectation, and the open­spaced concept of the cafe allows meaningful conversations to flow. Here's another tip: allow for a long day for this date, because TCS is also just a short walk to the beach!
If you're the type who monitors every single cent that leaves your pocket while still wanting the best value out of every penny, then check out Little Part 1 Cafe at Jasmine Road. It's a quaint little cafe located along Jamine Road, which serves savoury, yet affordable comfort food.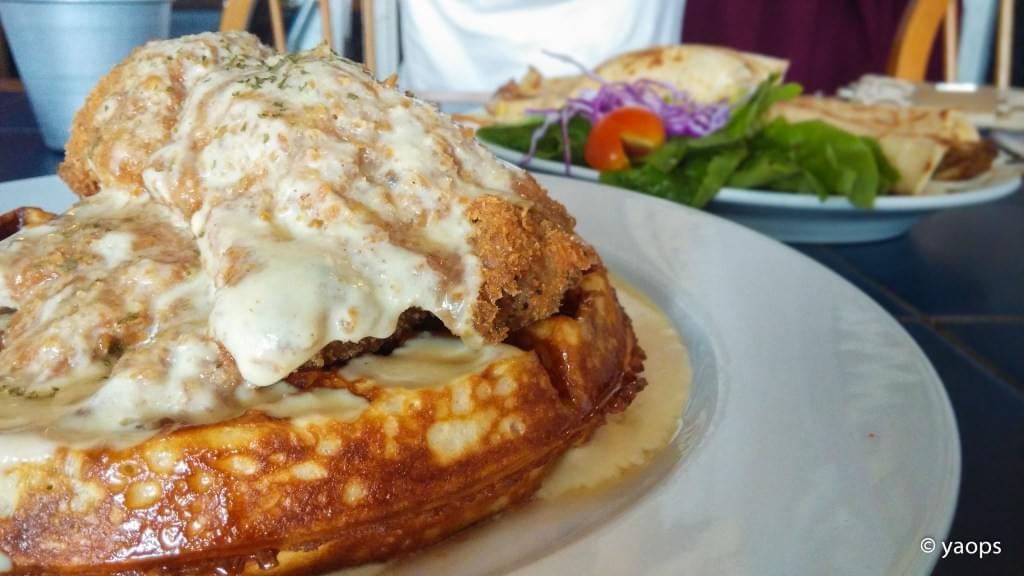 Take the Scallopini crepe for example. It contains grilled chicken, herbs, thinly sliced onions and a good portion of mozzarella cheese. Portion was sizeable, and it's yours for only $18.90! Bet you won't want dinner after that. Other favourites also include waffles and a wide range of sides to accompany. Waffles to kickstart a first date ­ who would say no?
Little Part 1 Cafe is perfect for a chillout session for 2. Customers regularly go back for their latte​, which boasts a good hint of chocolate, along with aroma that just takes you away to another dimension. 
Little Part 1 Cafe also offers you and your date something which is quintessential to a cafe: It boasts a nice, cosy environment perfect for those sweet nothings. The backyard features a quiet setting for more in­depth conversations, like you know, those talking about your dreams for the future.
Last but not least, ease off the cafe food for a nice walk in the neighbourhood! It'll give your date a deserving end.
So, what are you waiting for? What's left is just to bring your special date to tango. These 3 restaurants are perfect for the first date. Give them a try this weekend!
Author: Cindy (Relationship Studio)
Cindy is a Singapore Social Development Network, SDN-Accredited dating practitioner, a dating and relationship coach, certified wedding planner, and the founder of Relationship Studio. She is also the Exclusive Dating Coach of I Meet You, a leading online dating company in Singapore and Chief Dating Coach of Divine Connect, a premium match making agency in Singapore